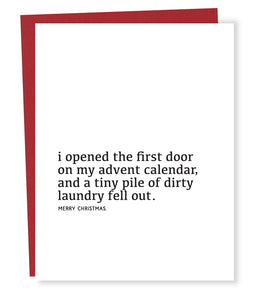 "I opened the first door on my advent calendar, and a tiny pile of dirty laundry fell out. Merry Christmas"

DETAILS //
• Size: 5.5 x 4.25
• Inside Message: blank
• Paper: white cotton
• Envelope: red
• Printing: letterpress
• Ink: black
Advent Calendar Card
Perfect for my mom. We are a big on advent calendars in my family and we both laughed a long time.
Simply hilarious. Everyone cracks up when I repeat it.
Fun cards
Always love cards, etc. from Sapling. My kind of humor and friends consistently comment at how much they love getting them. They brighten people's day.
Always LOVE my purchases from Sapling Press
Can't wait to see what you come up with for 2021!