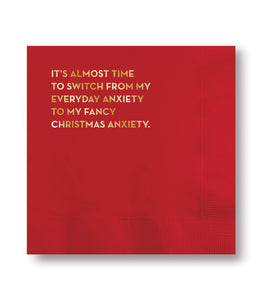 "It's almost time to switch from my everyday anxiety to my fancy Christmas anxiety."

DETAILS //
• Size: 5 x 5
• Quantity: box of 20
• Material: red 3-ply tissue
• Printing: foil stamped
• Foil: gold

Amazing
The team really enjoy the napkins we purchased.
Sums up my feelings on the holidays
The napkins are great quality and made me laugh out loud. Win win.
Anxiety
Can't wait to use next Christmas.
Color saturation
Love the quality of these napkins. The color saturation is great! They are high quality!