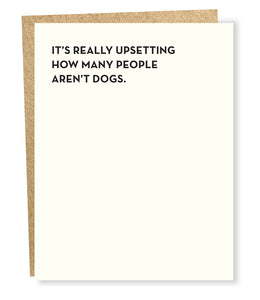 "It's really upsetting how many people aren't dogs."

DETAILS //
• Size: 5.5 x 4.25
• Inside Message: blank
• Paper: ecru cotton
• Envelope: brown bag
• Printing: letterpress
• Ink: black
Love the aren't dog card
I bought your card at a specialty shop since it caught my eye. I gave it to a friend for her Dog's Birthday and then thought of several more people I would like to send it to so I had to order more from Sapling press!
Your cards are great and bring a smile to everyone who receives them.
Snarky at it's finest and funest
These cards are so fun. People just love getting them. I keep getting them and now can't remember who I have sent which card too, but I don't care because they are so fun.
Why aren't more people like dogs?
These are perfect cards for SO many dog loving people. But then again ALL your cards are appropriate for someone. The best…..