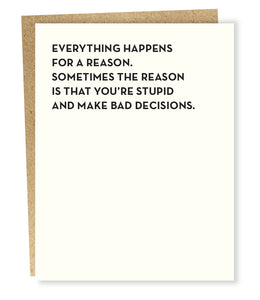 "Everything happens for a reason. Sometimes the reason is that you're stupid and make bad decisions."

DETAILS //
• Size: 5.5 x 4.25
• Inside Message: blank
• Paper: ecru cotton
• Envelope: brown bag
• Printing: letterpress
• Ink: black
BEST seller!
We cannot keep this card in stock!
Excellent
The thank you cards are perfect and I've already used some of them. The phrases on the other cards are hilarious, and I can't wait to send them off to friends. I'll definitely be ordering more. The quality of the paper for the cards is good and the letterpress work is really great.
Great card. I thought that I'd never be able to send it to anyone, but . . .
. . . it turns out that I have sent quite a few of them. It has cut down a lot on evangelicals telling me, "Everything happens for a reason." Most of them are still speaking to me.
Great cards
Always, smart, funny and true. A rare combination.