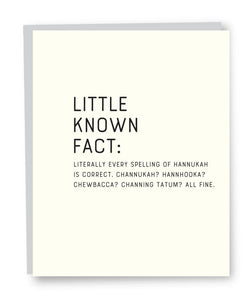 "Little Known Fact: Literally every spelling of Hannukah is correct. Channukah? Hannhooka? Chewbacca? Channing Tatum? All fine."

DETAILS //
• Size: 5.5 x 4.25
• Inside Message: blank
• Paper: ecru cotton
• Envelope: silver
• Printing: letterpress
• Ink: black
Best Hannukah Card EVER
Beyond pleased with these cards. They arrived quickly and were well packaged. Plus, the envelopes in the boxed set have self-seal envelopes and were beautifully packaged. Just hilarious.
Hilarious and creative
One of the best Chanukah cards ever! The comments from recipients have been terrific! Thanks
Brought Chanukah/Chewbacca/Channing Tatum cheer to all who received the card.