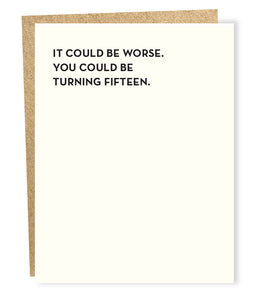 "It could be worse. You could be turning fifteen."

DETAILS //
• Size: 5.5 x 4.25
• Inside Message: blank
• Paper: ecru cotton
• Envelope: brown bag
• Printing: letterpress
• Ink: black
This is the perfect birthday card!
Makes me laugh every time I see it! I love all the Sapling Press cards and always keep a selection on hand for whatever occasion I might need.
Great cards
Simple but really fun messages. Great quality stock.