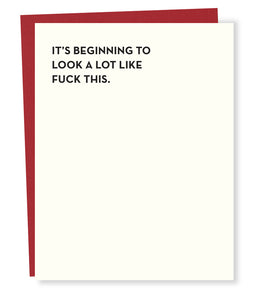 "It's beginning to look a lot like fuck this."

DETAILS //
• Size: 5.5 x 4.25
• Inside Message: blank
• Paper: ecru cotton
• Envelope: red
• Printing: letterpress
• Ink: black
F#*%* this cheap envelope!
Loved the quality of the paper for this very funny card/ perfectly written text expressed for me at 91 years old.
But hated the cheap, inferior quality of the envelopes! Come on Sapling Press!
The BEST cards ever
I LOVE every fucking card you make!
The hardest part of ordering is not being able to order one of every card you offer.
Thank you for your spirit...cheers to you all!
Fuck this card!
This card made my sister laugh out load!