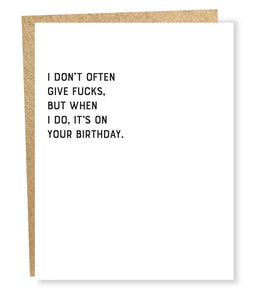 "I don't often give fucks, but when I do, it's on your birthday."

DETAILS //
• Size: 5.5 x 4.25
• Inside Message: blank
• Paper: white cotton
• Envelope: brown bag
• Printing: letterpress
• Ink: black
This is the card I need to have 10 of on hand
I can't wait for friends to have birthdays so I can send this card. It expresses exactly how I feel.
AMAZING art and copy
Their craftsmanship of the cards themselves is as beautiful as the wit of their copy...they really know how to use humor to spread love. I could not be more thrilled with these cards and I cannot wait to send them!!
Great card(s)
I purchased several cards, and all of them were high quality. I will definitely purchase again.