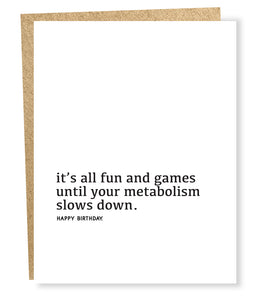 "It's all fun and games until your metabolism slows down. Happy Birthday."

DETAILS //
• Size: 5.5 x 4.25
• Inside Message: blank
• Paper: white cotton
• Envelope: brown bag
• Printing: letterpress
• Ink: black
Addicted to these cards
I have so many of these cards that I assume I will not live long enough to send them out.
Brilliant Cards
I always find what I need at Sapling. Hilarious cards and great service !
It's a secret
Everyone asks me where I get these awesome cards and, sorry, but I refuse to tell them. Want to keep them and the laughs they bring to the recipients my secret!
Seriously great cards
I take card giving very serious and i love Sapling Press!