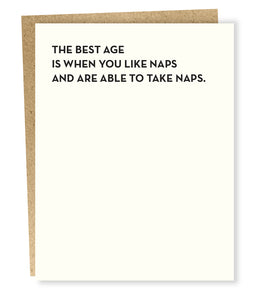 "The best age is when you like naps and are able to take naps."

DETAILS //
• Size: 5.5 x 4.25
• Inside Message: blank
• Paper: ecru cotton
• Envelope: brown bag
• Printing: letterpress
• Ink: black

What's not to love?
I love all the Sapling Press cards I've gotten over the years. Every time I order I find myself giggling over the choices. And then whittling down my choices so I don't spend empty my savings account. The paper is great and the snark is always there.
I'll go back again and again. Who needs to have money on the bank? Cards will always keep.