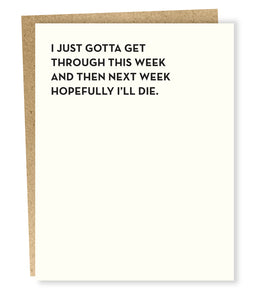 "I just gotta get through this week and then next week hopefully I'll die."

DETAILS //
• Size: 5.5 x 4.25
• Inside Message: blank
• Paper: ecru cotton
• Envelope: brown bag
• Printing: letterpress
• Ink: black
Some of the best cards in the industry.
When you want to be sarcastic (which is pretty much all the time for me), Sapling Press is the place to go. You will almost be unable to choose just one.