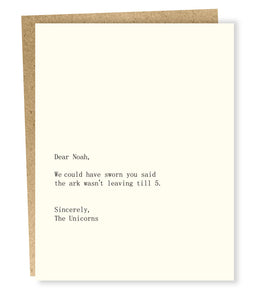 "Dear Noah, We could have sworn you said the ark wasn't leaving till 5. Sincerely, The Unicorns"

DETAILS //
• Size: 5.5 x 4.25
• Inside Message: blank
• Paper: ecru cotton
• Envelope: brown bag
• Printing: letterpress
• Ink: black

Cool cards!
I love sending these cards to my family and friends because I know they'll always bring a smile.