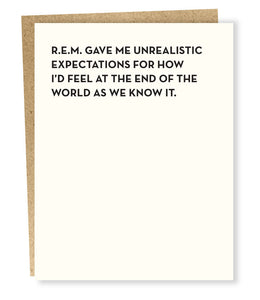 "R.E.M. gave me unrealistic expectations for how I'd feel at the end of the world as we know it."

DETAILS //
• Size: 5.5 x 4.25
• Inside Message: blank
• Paper: ecru cotton
• Envelope: brown bag
• Printing: letterpress
• Ink: black
Great card!
Great card! Don't discontinue it, at least as long as we're facing existential crises (pandemics, global warning, fascism, etc.)
And please bring back the "Say what you will about fascism, but it's made me entirely forget seasonal depression."
Pure Snarky Perfection
Your entire collection is spectacular! Those of us with sardonic wit appreciate your efforts. Party on!