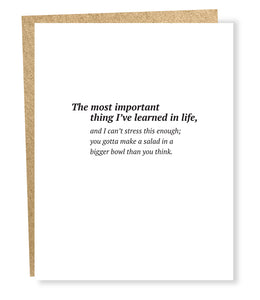 "The most important thing I've learned in life, and I can't stress this enough; you gotta make a salad in a bigger bowl than you think."

DETAILS //
• Size: 5.5 x 4.25
• Inside Message: blank
• Paper: white cotton
• Envelope: brown bag
• Printing: letterpress
• Ink: black
Perfect for several friends
Had to buy two of these! So true!
Love this card company!
great cards! Thanks for the laughs!
Sassy
Love your simple cards with the sassy/funny sayings. I send quite a few cards and always get comments on my Sapling Press cards.
A bigger bowl
The salad card is TRUE and very funny. I love it and so do all my friends.