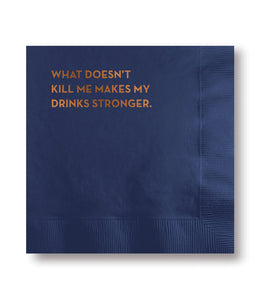 "What doesn't kill me makes my drinks stronger."

DETAILS //
• Size: 5 x 5
• Quantity: box of 20
• Material: navy 3-ply tissue
• Printing: foil stamped
• Foil: copper
What Doesn't Kill You - another winner!
I have a cocktail napkin fetish. I have no more room in my drawer, but I can't resist the napkins from Sapling Press. I buy them for friends, then have to get more for myself. The latest are the Stronger napkins. One for me, one for my bestie.