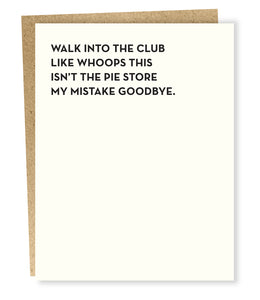 "Walk into the club like whoops this isn't the pie store my mistake goodbye."

DETAILS //
• Size: 5.5 x 4.25
• Inside Message: blank
• Paper: ecru cotton
• Envelope: brown bag
• Printing: letterpress
• Ink: black

Love it!
As always, cards from Sapling are the best!
A great card to cheer up a friend
...and to remind said friend that we are now old and would rather eat pie than go out to the club. So good :) Thank you!