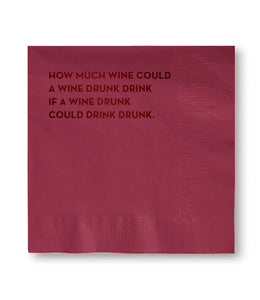 "How much wine could a wine drunk drink if a wine drunk could drink drunk."

DETAILS //
• Size: 5 x 5
• Quantity: box of 20
• Material: burgundy 3-ply tissue
• Printing: foil stamped
• Foil: burgundy
I love all of your napkins!
Some people collect stamps, some coins. I collect funny cocktail napkins. Sapling Press has the best ones ever! I purchased about 4 different ones, and gave the Wine Drunk napkins as gifts. I love all your products!